Gold Jewelry Explained
Gold Fill

Gold fill jewelry offers (left diagram) excellent value for its price. It is water-resistant and tarnish-resistant, but careful treatment is necessary because it is not solid gold. Regular cleaning and periodic removal are recommended to maintain its luster. Gold fill jewelry features a base metal pressure bonded to a thick layer of solid gold, ensuring its tarnish resistance. Safe for individuals with metal allergies and it closely resembles solid gold without the hefty cost. Its permanent bonding and higher gold content make it superior in quality compared to gold-plated jewelry, albeit at a slightly higher price point. With proper care, gold fill jewelry can last a lifetime.
Gold Vermeil

Gold vermeil (middle diagram) is a high-quality alternative to gold-plated jewelry, legally regulated to have sterling silver as its base metal and a specific gold thickness of 2.5 microns. It is more durable, valuable, and hypoallergenic compared to regular gold-plated jewelry. For an affordable way to achieve the look of solid gold, vermeil is an excellent choice. However, it requires careful treatment and should be kept away from liquids and moisture, and removed during swimming, bathing, or exercising.
Gold Plated

Gold plated jewelry (right diagram) features a base metal, usually copper or brass, with a thin gold coating of at least 0.5 microns. It offers an affordable option but is of lower quality and durability compared to gold-filled and vermeil jewelry. Prone to tarnishing, careful attention is required regarding when to remove it and how to care for these pieces. Regular maintenance is crucial to avoid discoloration or green skin reactions, which can result from the base metal reacting to water. Periodic cleaning is necessary to maintain its appearance, and it must be kept away from all liquids and moisture, including during swimming, bathing, or exercising.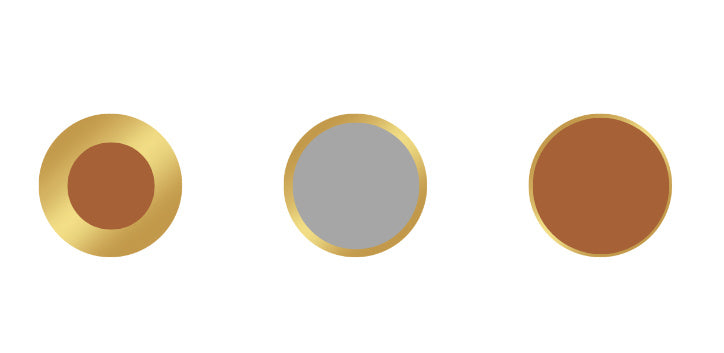 About Us
Whatever you do, work at it with all your heart. Colossians 3:23
LaLa Line Designs, a Houston-based brand, embraces core values of authenticity, heart, positivity, and gratitude. Our journey is driven by the desire to inspire, impact, and illuminate the world with each piece we create.
Lillyana Stefanakis is the jewelry designer and creator of LaLa Line. With meticulous care and attention to detail, she selects all the materials and handcrafts each jewelry piece. The uniqueness of her designs enables individuals to showcase their individuality and express themselves, while also elevating their style. Embracing her love for jewelry from a young age, Lillyana would often sketch designs in her notebooks, dreaming of bringing them to life one day. At 8 years old, she began learning the art of jewelry making, and she has been passionately designing and crafting pieces ever since.
Lillyana derives immense joy from creating beautiful pieces and is honored to share her creations with others.